House Rewiring Costs in Ireland (2022 Guide)
The Overall Cost to Rewire a House in Ireland in 2022
Is your wiring faulty or outdated, or are you seeking to modernise your home for a future project to meet the evolving needs of a growing family? Perhaps you should consider rewiring your house. But before you do, it's essential to determine how much you'll spend on the project.
While there's no specific set cost to rewire a house in Ireland, we can give you some estimates based on the average costs of the core electrical activities involved. This way, you'll have an idea of how much to pay your electrician for rewiring your house.
This comprehensive guide explores the cost of rewiring a house in Ireland. We also discuss the various needs for and benefits of rewiring a typical Irish house. So, let's get started!
What's the Cost of Rewiring a House in Ireland?
In today's post-Covid climate, the estimated cost of rewiring a house in Ireland generally ranges from €7,500 to €15,000. However, this can be more or less depending on multiple factors. Let's examine some of the factors contributing to your rewiring project cost.
The Current Condition of Your Electrical Installation
How faulty or outdated is your electrical installation? Your current wiring condition determines the cost of rewiring.
Typically, electrical wiring has a 50-70 years life expectancy. However, this can be more or less depending on the quality of materials used and how you (or the home's previous tenants) use your wiring domestically.
Also, the outer protective sheathing often degrades sooner depending on the internal factors such as general wear and tear and the quality of the materials used and the quality of workmanship applied at the initial build phase.
If your electrical wiring has damaged protective sheathing or is ungrounded, you may need to rewire your house. Other factors that may affect the lifespan of your wiring include how exactly the wiring was installed and past modifications.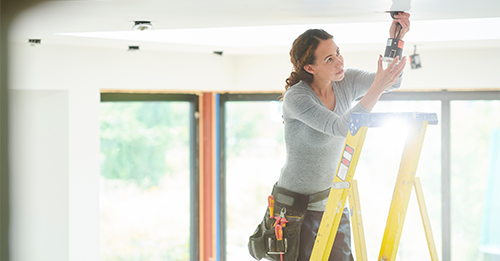 Home Size and Age
The cost of rewiring your house in Ireland will depend on the size and age of your home. Ideally, electricians charge rewiring projects per square foot. So if your house is large, you'll pay more for rewiring. A typical three bed house will cost you approximately €7,500 - €15,000 to rewire.
Also, according to building codes, the number of outlets depends on wall space, so if you have more walls, you'll need more outlets.
Additionally, many older Irish houses have lath and plaster walls, making fishing wires through these old walls a daunting challenge for your electrician.
Labour Costs
Sometimes it takes a team to rewire your house. First, you'll need a licensed electrician for the project. Electrician costs vary greatly depending on the skills, experience, and availability.
Typically, a licensed electrician will demand an hourly rate of between €60 to €80, exclusive of the material cost and VAT. Of course, the price will be higher if the electrician works on weekends or overtime.
Don't attempt an electrical rewire in your home yourself if you lack the necessary knowledge and skills. It's a dangerous project that could lead to injuries and even death.
The number of people required to complete the project will depend on the size of your house. The bigger the house, the more labour you'll need for your project. This will also affect the period it takes to complete the project.
For instance, if you want your project to be complete in less time, you'll need to hire more people, increasing costs. Also, if you don't have enough labour to complete the project in time, you'll have to pay for the extra hours, which adds to the cost.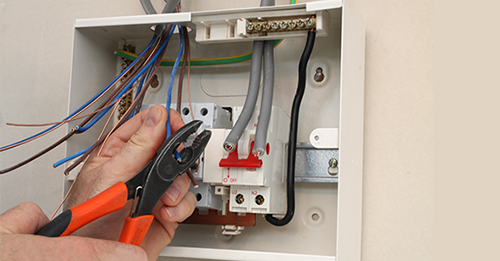 Upgrading Your Fuse Board
Sometimes, your rewiring will only involve upgrading your fuse board or fuse box. Typically, an electrician will only need one day to update your fuse boards.
You can expect to pay a fee of approximately €1500 to upgrade your fuse boards. In addition, the box's location, configuration, the type of wiring and the specific work required will affect the cost of upgrading your fuse boards.
The Cost of Fitting Appliances and Fixtures
You may focus your rewiring on home appliances and fixtures, which affects the overall cost of rewiring your house.
However, estimating the cost of fitting appliances and fixtures can be tricky because the machines can affect the final price.
Here's a breakdown of the cost of fitting appliances and fixtures;
Plug sockets - €150 to €250
Electric shower - €450 to €1000
Kitchen appliances - €50 to €100
Light pendants - Up to €150
Rewiring Renewable Energy Systems
If you want to generate heat and electricity in your home without burning fossils, you may install renewable energy systems, which may involve rewiring the entire house.
You can replace the entire heating system or install a new high-efficiency cylinder to make your home green and improve the hot water heating efficiency in your home.
It's worth noting that you need a registered electrician to replace outdated wiring for all your rewiring and energy upgrade projects.
When Should You Rewire Your House?
We recommend rewiring your house at least after every 20 years. However, the lifespan of wiring depends on the materials used and how you use the system.
If you continue to use old wiring that hasn't been inspected for decades, you'll risk electrocution and even fire, with faulty electrical wiring accounting for over 120 fires in Ireland each year per the latest government fire statistics released in 2020.
However, a periodic inspection by a qualified electrician can help identify faults in your wiring to prevent such troubles. This routine check, lasting for approximately two hours, ensures your circuitry and electrical systems are in good condition.
You should have an electrical contractor check your wiring at least once every ten years. In addition, the law requires social and private housing landlords to organise periodic inspections for wiring in their period property every five years.
Signs You Need a House Rewiring?
You should start thinking about rewiring your house if you haven't done so in 20 years. After two to three decades, your system will likely suffer extreme wear and tear.
It's essential to examine the condition of your current wiring to decide if you need a rewiring. Some signs to look for include;
Flickering or dimming lights
Tripping fuses
Discoloured or scorched socket outlets and/or switches
Frayed cables
Sparking outlets
Persistent burning smell
Electric shocks
Hanging sockets
An old house with visible signs of decay
In addition to the signs above, regular electrical maintenance procedures like Portable Appliance Testing (PAT) and periodic inspection can help determine if your house needs rewiring. You should never ignore a warning of a faulty wiring system as it puts you and your family at significant risk.
Although PAT testing is not currently mandatory for Irish-based homeowners, it safeguards appliance reliability. The procedure examines the electrical conditions of typical household equipment like TVs, washing machines and microwaves.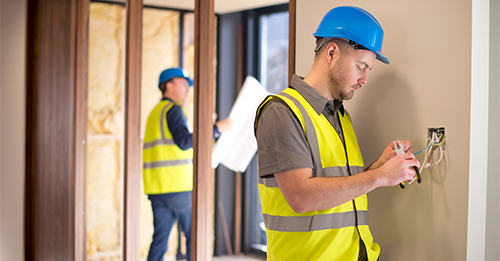 Grants for Rewiring Houses in Ireland
You may benefit from a grant to rewire your house in Ireland. The Housing Aid for Older People Grant from the Sustainable Energy Authority of Ireland helps older people aged 66 and above repair and improve their homes.
However, you must be living in poor conditions to benefit from the grant. Also, other qualifications are needed for the Housing Aid for Older People Grant. The basic renovations homeowners can do to benefit from the grant include wiring, house extension, plumbing system repairs, and more.
You should check with your local authority to determine the types of repairs the grant covers and the qualifications. Your household income will be assessed to decide whether or not you qualify for the funding and the level of assistance needed.
The grant does not cover all the costs of rewiring, it only covers a certain percentage. The maximum assistance you can get for your rewiring project is €8,000, enough to cover up to 95% of the total cost approved by your local authority.
When applying for the Housing Aid for Older People Grant, you must fill out a form and provide particular evidence and supporting documents. You'll also need a report from a licensed electrician (registered with Safe Electric) describing the necessary wiring repairs.
Why Should You Rewire Your House?
The high cost of rewiring a house in Ireland often gives people second thoughts. However, it's a really worthwhile investment which can make a huge difference to the quality of life for you and your loved ones if you consider the benefits.
For instance, if your rewire will involve external wall insulation applied to your house exterior, you can save up to €600 per year.
Some other (non-financial) benefits include;
Improved appliance longevity
Save money on electric bills
Increased home resale value
Reduced fire risks
Your property complies with latest government regulations
Reduced chances of power loss
Future-proofing your home for modern electronics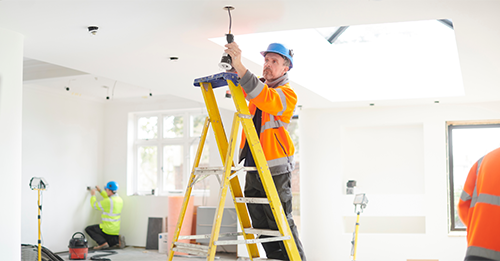 Irish Home Rewiring Cost Conclusions
Based on the current national average for a three-bed semi-detached house, the overall price of rewiring a house in Ireland can go up to €15,000.
However, finding an accurate estimate of the cost can be challenging. You need to consider various factors, including your existing electrical installation, labour requirements, home size & age, permits, and any other hidden cost. If your rewiring focuses on light switches and fittings, you will likely pay less.
Ideally, you should rewire your house at least once after 20 years. However, other signs may trigger a house rewire, including frayed cables, tripping fuses, and flickering or dimming lights.
Older adults aged 66 and above can benefit from the Housing Aids for Older People Grant, which covers the cost of home improvement projects, including rewiring.
Need a qualified electrician in Ireland? We'll inspect your house to determine any faults in your wiring. We have professional technicians to conduct your rewiring project throughout the country.
All of our electricians are fully vetted, adhere to our strict code of conduct and issue a full completion certificate in accordance with Safe Electric guidelines.
What's more, we also offer a 12-month guarantee backed by Bord Gáis Energy as an additional measure of reassurance to homeowners who choose to
Contact us today to get a free, no-obligation quote on your home rewiring project.