The Cost of Replacing Radiators in an Irish Home
Oil-fueled radiators are the primary home heating systems used in Ireland.
As a property owner, it's critical to ensure these units are properly maintained to keep your home warm and comfortable during the cold seasons. One way to ensure this is by knowing when to replace your radiators and the costs of undertaking this critical home improvement project.
Thankfully for consumers, replacing radiators in Ireland is quite easy if you hire the right professional, either an experienced plumber, gas installer or oil heating engineer.
However, before rushing into it, this guide will help you understand the ins and outs of replacing your radiators, the type of radiator you should consider when upgrading and get a handle on some of the expected component costs of each of the main factors involved.
How Much Will it Cost to Replace my Radiator?
To determine the average cost of removing and replacing your rads, you must factor in the following:
The cost of a new radiator
With prices starting from as little as €180, the average price of new radiators in Ireland ranges from €180 to over €500, depending on the size and style you want.
When buying an individual radiator, a critical factor to have in mind is to ensure it is of equal size to your old one and has similar pipe fittings. This will help ensure the installation process is flawless besides saving you from unnecessary additional costs.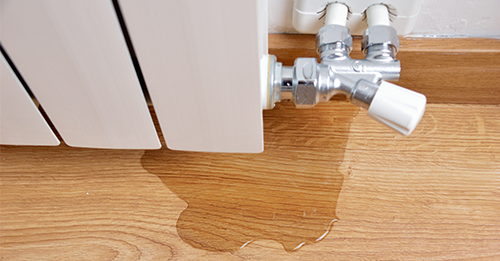 The best way to replace radiators is by hiring a certified plumber for this task. Since most plumbers charge hourly rates of between €60 to €100, which can go higher depending on the type of job and where you live.
For example, plumbers in Dublin can charge over €80 per hour, given the high costs of operating in the city. You can expect to pay between €80 to €250 per hour for the labour costs depending on several factors which we explore below.
Factors that Affect the Cost of Replacing a Radiator
The actual cost of replacing your radiator is dependent on several factors that you must take into account. Different radiators offer a different range of benefits and design choices, so it's important to know what you're looking for in advance of requesting a quote for your project.
These factors include:
The style and size of the radiator
There are different styles and sizes of radiators available in the market today. When shopping for a new radiator, you must consider the style and size that best suits your home or room. While it's highly recommended that you replace an old radiator with one of similar style and size, you can always opt to upgrade to better and more efficient models.
The most popular radiator types and styles available on the Irish home heating market today include the following options:
Central heating radiators
Central heating radiators come in two styles; single-panel and double-panel radiator (or 'type 22') varieties.
The single panel style is best used for heating small spaces as it has a compact design, while the double panels are recommended for larger rooms as they produce more heat.
Central heating radiators are pretty common as they have high heat output and heating efficiency besides being quite affordable to buy and install, and are kinder on your overall heating bills.
Flat-panel radiators
Flat-panel radiators are designed for modern homes that require central heating systems that are lightweight, compact, and heat up pretty fast.
On average, these radiators cost more than central heating radiators but offer the advantage of giving a room a modern and appealing touch.
Cast iron radiators
Cast iron radiators were originally designed to suit the heating systems of older homes that were characterised by large rooms and high ceilings. These radiators retain heat for longer and are a great option if your house has large rooms and you would love an old-style twist to your contemporary space.
Stainless steel radiators
Stainless steel radiators were introduced as a solution to corrosion and rust problems that affect most metallic materials. As such, these types of radiator offer the benefits of being low maintenance and the extra advantage of having sleek, modern aesthetics.
Aluminium radiators
Aluminium radiators are an excellent option for low-temperature central heating systems as they support higher heat transfer rates and require less energy to maintain the desired room temperatures. Since aluminium is non-corrosive, these radiators are easier to maintain and have sleek designs that suit the modern home.
Column radiators
Column radiators originated from the Victorian era, and while new models are built to provide greater heat efficiency, they still maintain a distinct traditional aesthetic. To install these radiators, you will require sufficient wall space to accommodate their sizes.
Vertical radiators
Vertical radiators are a suitable option if you have limited wall space as they are tall and slim enough to fit into unused spaces without looking out of space. These radiators are available in countless styles and colours, making them perfect for the contemporary house.
Designer radiators
Designer radiators refer to stylish and modern radiators that have been built to complement the aesthetic of a home or room. These radiators are available in unique designs and might double up as decor items such as mirrors and wall art.
Towel radiators
Towel radiators are built for use in the bathroom, where they help bring warmth into this space while making it easier to dry your towels. These radiators often have compact and stylish designs, easily fitting into the smallest spaces.
Electric radiators
Electric rads are still quite common in many older Irish homes which don't have central heating systems. They're powered via the electric grid and consume electric units at a much less efficient rate than oil-fueled rads connected to the gas meter.
If you're planning on replacing an electric radiator, it's often more straight-forward given many are simply plug and heat, though the services of a qualified electrician are advised for any jobs that require rewiring.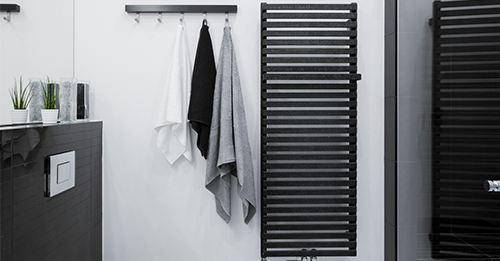 Likely additional costs
You can never replace your radiators without first considering the overall state of your central heating system. If your current heating system is too outdated or inefficient, a long-term solution is opting for an upgrade.
While a new heating system cost in Ireland will be more expensive than replacing a radiator, taking this path will guarantee you years of comfort, with a warmer, more efficient home and more manageable energy bills in the long-run.
However, if your heating system is still in good condition some of the additional costs you might incur, include:
Draining your central heating system. It might be necessary to drain your central heating system, especially if you are replacing more than one radiator, adding an inhibitor to your system, or removing the accumulated sludge and limescale.
Central heating power flush. A power flush is the most efficient way of cleaning your heating system to avoid blockage or corrosion by removing the dirt, sludge, rust, and debris accumulated over time.
Underfloor heating - An increasingly common request in modern retrofitting projects, underfloor heating systems can transform a home's heating efficiency, but is a relatively expensive option which can dramatically increase overall project costs.
New pipework installation - If you are replacing your old radiators with a different model, your plumber will have to install new pipes that suit the specifications of the new radiators.
New thermostatic radiator valves - Your professional plumber might recommend the installation of new TRVs for better temperature control.
New boiler thermostat - Installation of a new, more modern boiler thermostat might be necessary if the old one is broken or no longer working properly.
New boiler installation - Most boilers have an average lifespan of 15 years (though some might last for up to 30 years). If your boiler has seen its better days, the best solution is to have it replaced, as these units are what dictate the efficiency of your heating system.
Ensuring your boiler is up to the task of fueling your radiators efficiently is critical to the performance of your home heating system and hot water production. Depending on the size of your home, you should ideally have a boiler size that can meet the demand. The most popular boiler in Ireland can generate at least 18kW output.
We cover boiler replacement costs and considerations in more detail in our Complete Guide to Boiler Replacements - well worth a read if you're keen to understand the different types of boilers available to you.
To put a figure on the total project cost, assuming there's approximately 16 radiators in a 3/4 bed semi-detached Irish house, with 1-2 bathrooms, it's just a case of doing the maths on average unit cost of radiator x number of radiators + labour cost (plus VAT) and you'll have an estimated total cost of this project for your home.
Of course, you'll also need to factor in any additional radiator replacement costs, such as skip hire and removal and any other interior decorating services such as plastering or painting to get the full picture.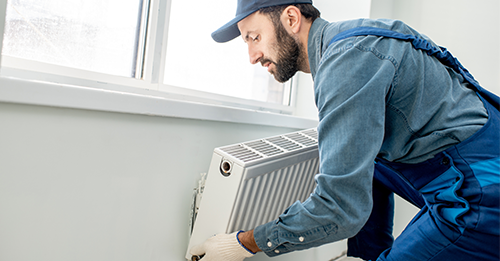 When Should I Replace my Radiator(s)?
Knowing when to replace your radiator is important, and some of the signs you must never ignore are:
When your radiators are too old and outdated. Older radiators are less efficient and costly to maintain, making it vital to replace them with new radiators that consume less energy and have high efficiency.
When you have a leaking radiator. You must never ignore a leak from your radiator, and too often, the better choice is to replace it with a new one. In most cases, a radiator will leak because of corrosion and rust that eats up the metal or recessive buildup of sludge. Regularly checking your radiator for leaks is something every homeowner should make a habit of.
When your radiators require constant bleeding and repairs. A properly functioning radiator will require professional maintenance and bleeding once a year. Therefore, if you have to call your plumber more than once a year, this is a clear sign that your radiator is on its last legs and needs to be replaced.
Your boiler is properly functioning, but you still have a problem heating your house. If you do not have issues with your boiler, but it is still a challenge to make some rooms in your house warmer, your best shot is to replace those old radiators with new ones.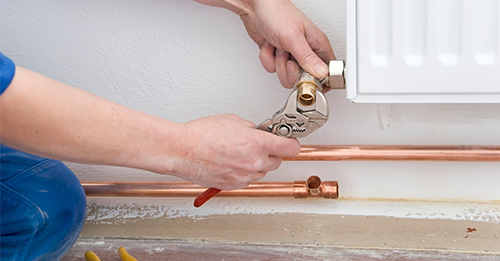 Irish Home Radiator Replacement Cost Conclusions
Based on the current national average for a three-bed semi-detached house, the overall price of replacing your radiators in Ireland can go up to €3,000.
Finding an accurate cost estimate right off the bat can prove challenging. You'll first need to consider various factors, including your existing heating installation, boiler condition, the type of rads you want in each room, your home's size and age, and any other potential costs specific to your needs.
Would you like to speak to a qualified plumber or professional heating engineer about your upcoming radiator replacement project? We'd be more than happy to arrange a consultation.
All our home improvement jobs are backed by a 12-month guarantee to give you peace of mind when choosing a Local Hero.
Contact us today to get a free, no-obligation quote on your radiator upgrade project.
Book a Qualified Heating Engineer for Your Radiator Replacement Today